Carefor PT-01 Carbon Dioxide Detector with Temperature and Humidity, Indoor Air Quality Monitor (Wood Color)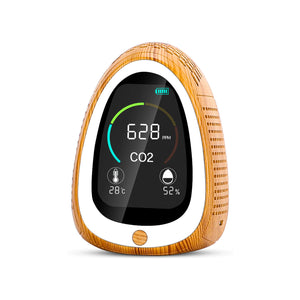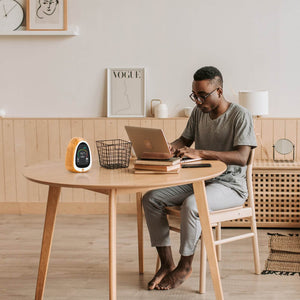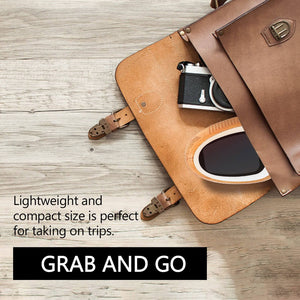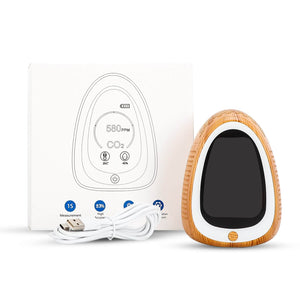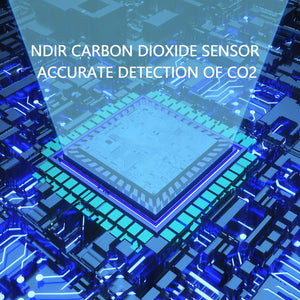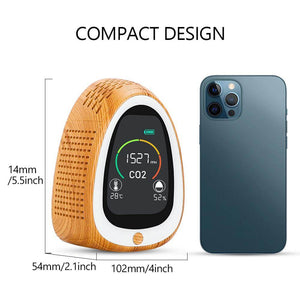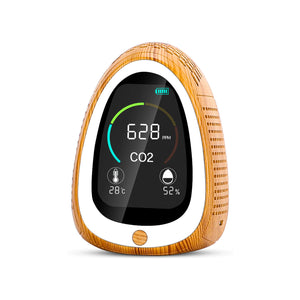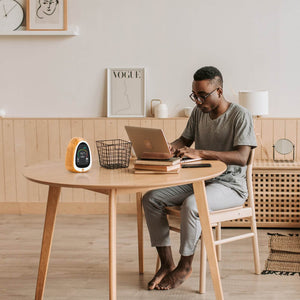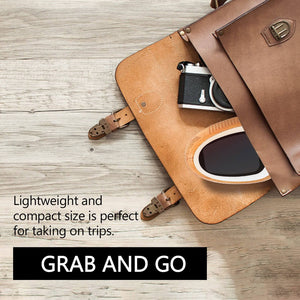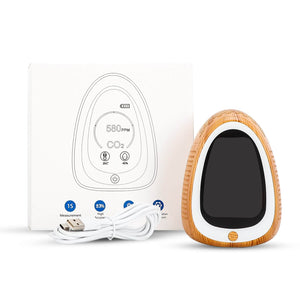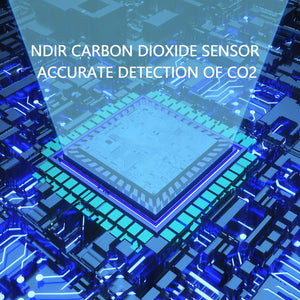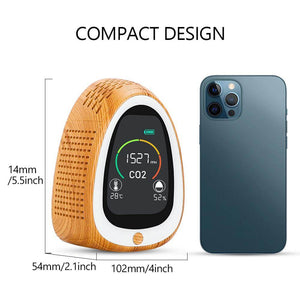 Carefor PT-01 Carbon Dioxide Detector with Temperature and Humidity, Indoor Air Quality Monitor (Wood Color)
New year deal: Use code 15OFF for 15% discount.
Free shipping: Free shipping for UK orders.
Support: Please call +44 (0)1223969188 or email to sales@careforaqi.com
Returns&Warrenty: 14 days free return, one year warrenty.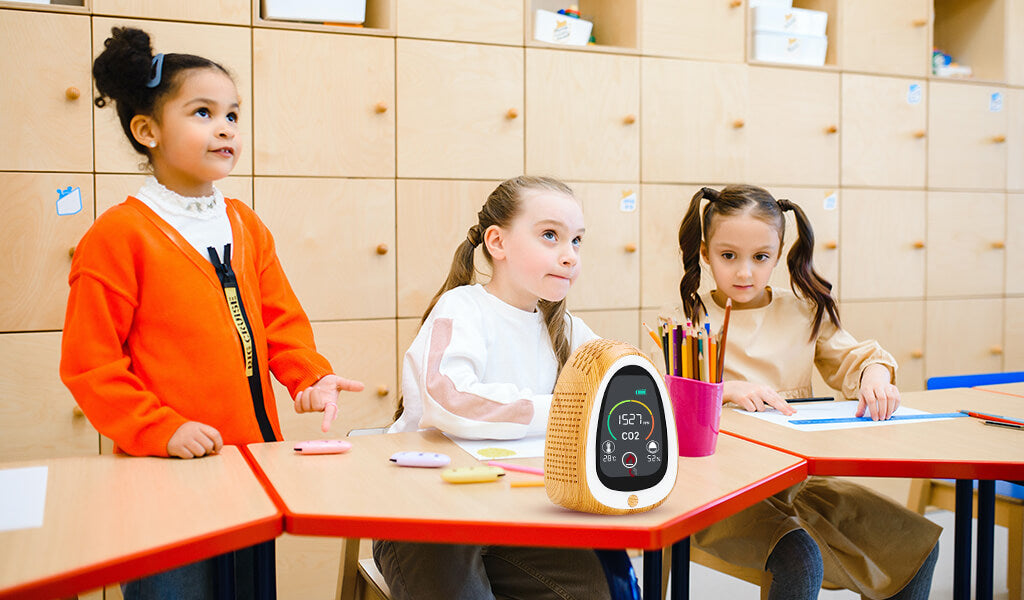 The United States stipulates that the eight-hour average carbon dioxide concentration in the workplace cannot exceed 0.5% (5000 ppm). Animal experiments have shown that exposure to this condition for eight consecutive weeks can cause a decrease in bone density and kidney calcification. Other studies have shown that even at a concentration of 0.1% (1000 ppm), exposure for 2.5 hours can significantly reduce cognitive ability, which may be related to the increase in cerebral blood flow with carbon dioxide. Research in office white-collar workers shows that compared with 500 ppm, white-collar activity and information useability are reduced when the carbon dioxide concentration is 1000 ppm.  

Our air quality monitor for home perfectly fit your needs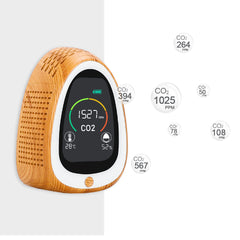 High-Precision Data range: Working Temp:14°F-104°F(±33.8°F), Indicator lights, simulation bars and facial expressions indicate multiple air quality levels. Due to the high sensitivity of our product, please charge the product before use and place it in a ventilated place for about 24 hours, let it do self-calibration, and then use it.
Indispensable for testing air quality: The air detector is a professional air quality monitor.It uses non-dispersive infrared (NDIR) CO2 meter monitors carbon dioxide, temperature and humidity and smoke alarm functions.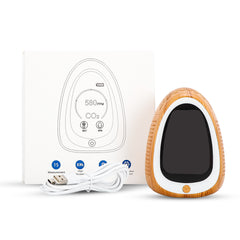 Rechargeable Battery: When charging with the Micro USB that comes with the instrument, please use a power adapter with a specification of "5V-1A". In general, it takes about 3 to 4 hours to fully charge the batter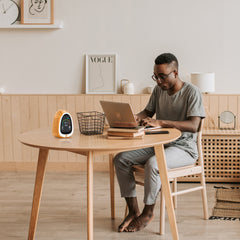 Occasions: It is suitable for living room, bedroom, baby room, meeting room, library and other various places. Exquisite appearance, simple design, light weight and easy to carry


The Harm of Carbon Dioxide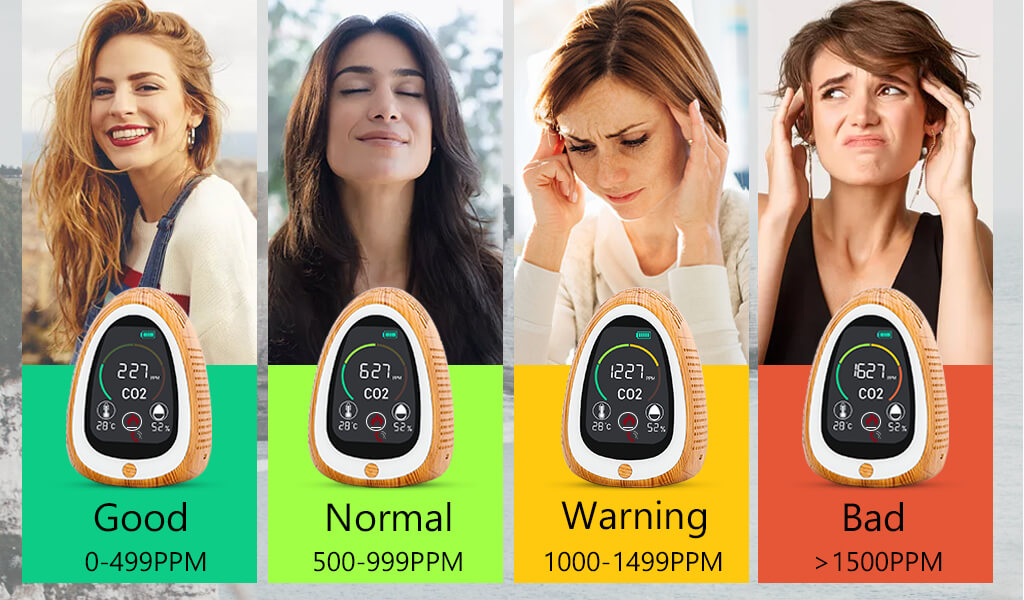 The normal content of CO2 is 0.04%. When the concentration of CO2 reaches 1%, people will feel stuffy, dizzy, and palpitations. When it reaches 4%~5%, people will feel wheezing, headache, and dizziness, and when it reaches 10%, It will cause serious disorders of human body functions, cause people to lose consciousness, become unconscious, stop breathing and die. Carbon dioxide poisoning is a coma and cerebral hypoxia caused by people inhaling high concentrations of carbon dioxide. Generally, when the carbon dioxide content in the atmosphere exceeds 1%, people have mild poisoning reactions; when it exceeds 3%, breathing difficulties begin to occur; more than 6 %, it will be deeply poisoned and even die. Our Carefor PT-01 CO2 detector detector uses laser sensors to accurately detect CO2, which can be used in homes, schools, gyms, offices and restaurants, help you to improve the quality of life.
The Harm of Smoke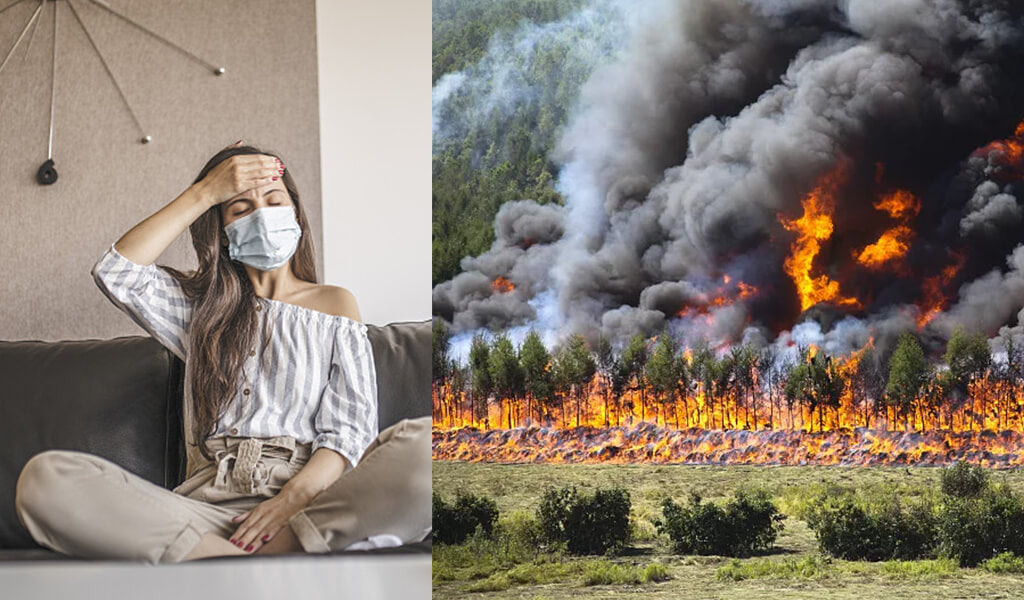 The concentration of carboxyhemoglobin in the blood of a mildly poisoned person is between 10% and 20%, and severe headache, dizziness, nausea, vomiting, palpitations, vertigo, weakness of the limbs, lethargy, irritability, unstable gait, and need to leave in time In a poisoned environment, inhaling fresh air, the symptoms can be relieved quickly and gradually recover completely.
For the safety of your family, you need a carbon dioxide detector with smoke alarm to detect the air quality at home
Instructions for use

The Co2 reading and light indicator display: 0.-499PPM is shown as a green bar 500-999PPM shown in yellow, 1000-1499PPM is shown in orange, 1500PPM and above is shown in yellow displayed in red.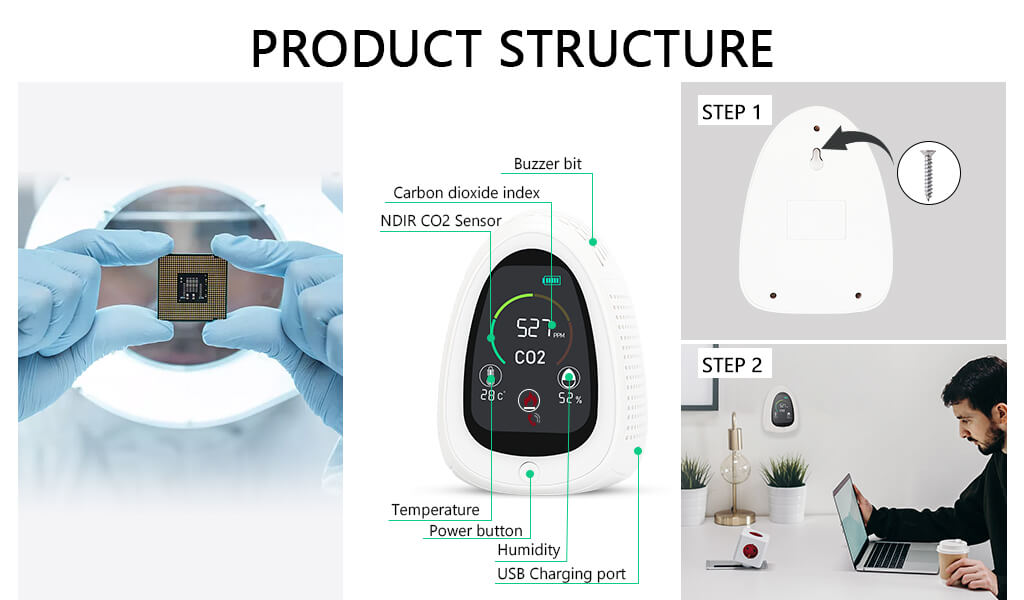 When the Co2 reading reaches l000ppm. the device will beep twice. If it exceeds l000ppm, the device will start to alarm continuously for 20 seconds. To silence the alarm. hit the Power button on the unit or touch the (Alarm shutdown. And the alarm will automatically turn off when the value is lower than1000ppm or after 20 seconds. If the C02 reading exceeds 2000ppm,the device alarm will sound again for 20 seconds. And It will be turned off when the value is lower than 2000pprn. When the C02 reading exceeds 4000ppm, the device buzzer sounds Du Du Du Du Du continuously every 20 seconds. 
 
This product includes a rechargeable battery. The battery level can be accurately displayed on the screen: 25%, 50%, 75%, and 100%. When the battery level is lower than 1%. the monitor will sound didi for 20 seconds. And it only sounds "didi six times in one minute. The device will automatically Power on when it is charging, It takes about 4 hours to charge. The fully charged battery would last 6-8 hours
The default temperature is Fahrenheit
 
5.1. Long press the Power button to switch it off.
5.2. Press the Power button three times In a row.
5.3. Long press the Power button to switch it on.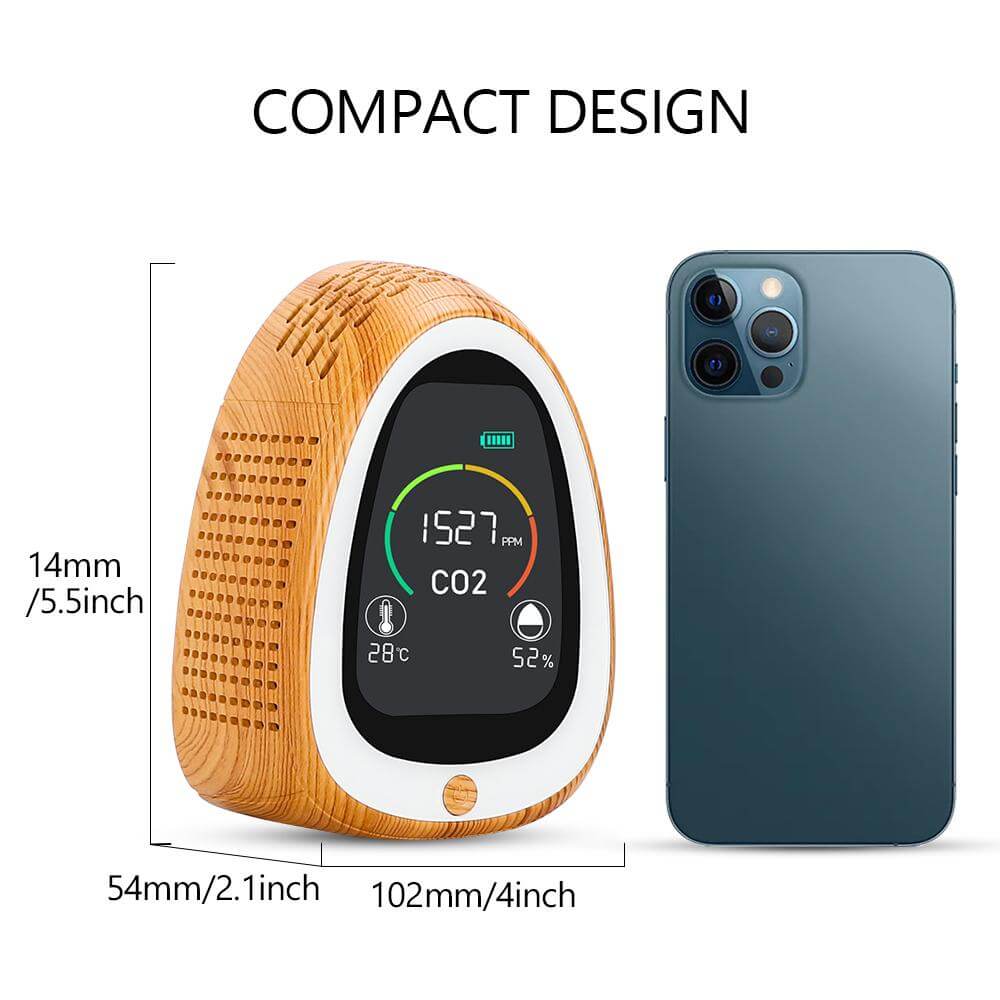 PRODUCT PARAMETER
 
Color: White/Wood Color
Temperature Measurement Range: -20C°-60±2 C°
Humidity Measurement Range: 5%-95%; ±5%
C02 Measurement Range 400-5000ppm, Resolution: 1 ppm
C02 Measurement Accuracy: ±50ppm or±5% of reading
Sound Level: 85dB (3M)
Sensitivity to Smoke: 0.1%db/m-0.3%db/m
Working Temperature 0℃-50 ℃
Working humidity: 0-95% (non-condensing)
Input Voltage: DC 5V
Built-in Battery Capacity I400mAh
Weight: 335g
 
 
Note
      1. Using the supplied USB charging cable is recommended.
To ensure the accuracy of the detection, allow the device to stand for 10 minutes. It should be put in a ventilated environment for 24 hours to automatically calibrate itself if the device is required to work in a confined space.
To ensure the service life of the product, please do riot leave the product in the air for a long time or in a poor quality environment.
Do not place the product in an extreme environment such as high temperature or low temperature. This product does not protect against thunder, lightning, and rain. Please use it in a normal environment.
knocking, impacting, or disassembling the product may cause the detection to be inaccurate. Please keep it properly.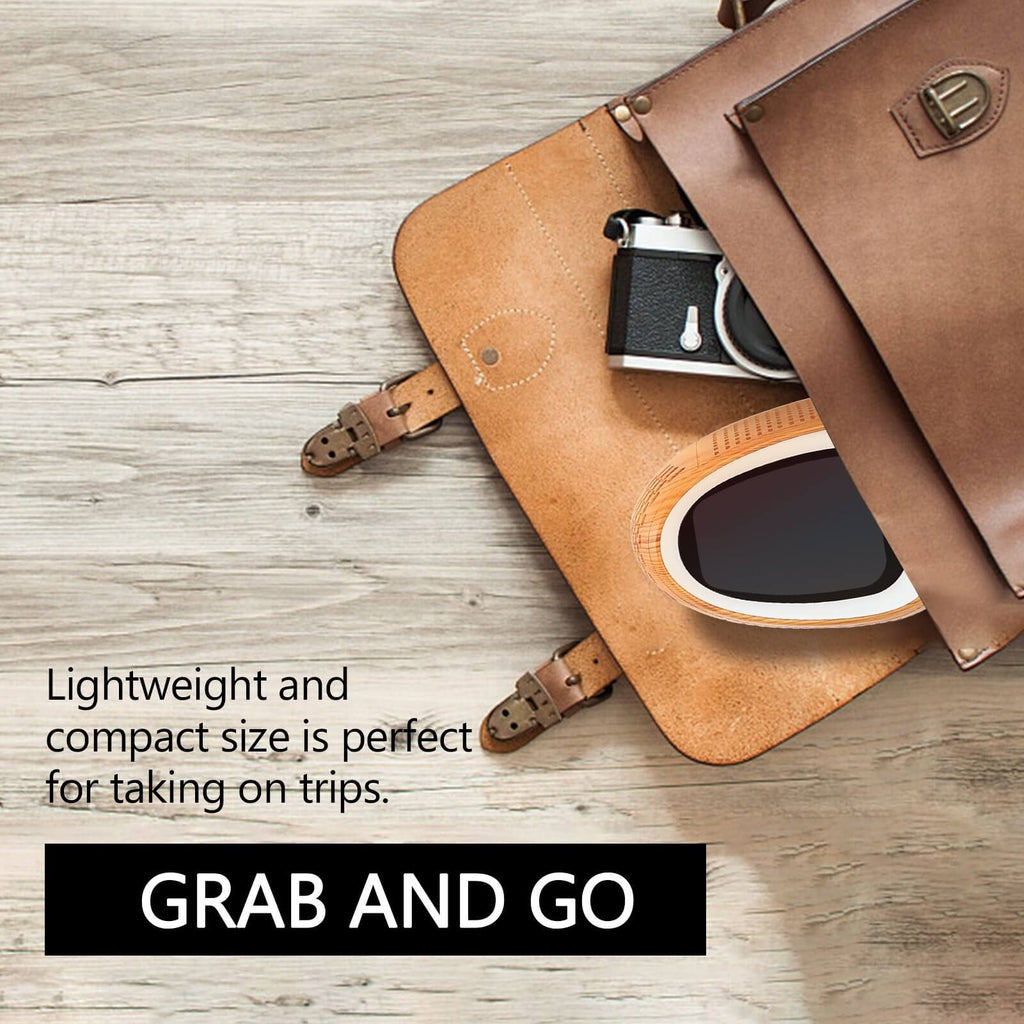 FUNCTION/OPERATION
Press the Power button and hold for 2 seconds to turn on the
The corresponding temperature, Co2 concentration, and humidity can be quickly detected within 5-7 seconds. 
Warning:
Please keep the product unreachable for children and babies.
Please use a standard adapter for this product.
3, Please don't dismantle, modify, heating the product.
Avoid falling down or heavily hitting.
If the product smoke or have any abnormal situation, please stop using it immediately.
Do not use alcohol, gasoline, and other organic solvents to clean the product.
Do not touch any part of the product with wet hands.
Do not allow the metal objects (like pins, keys) in contact with terminals or plugs.
Do not cut, damage, or modify the power cord.